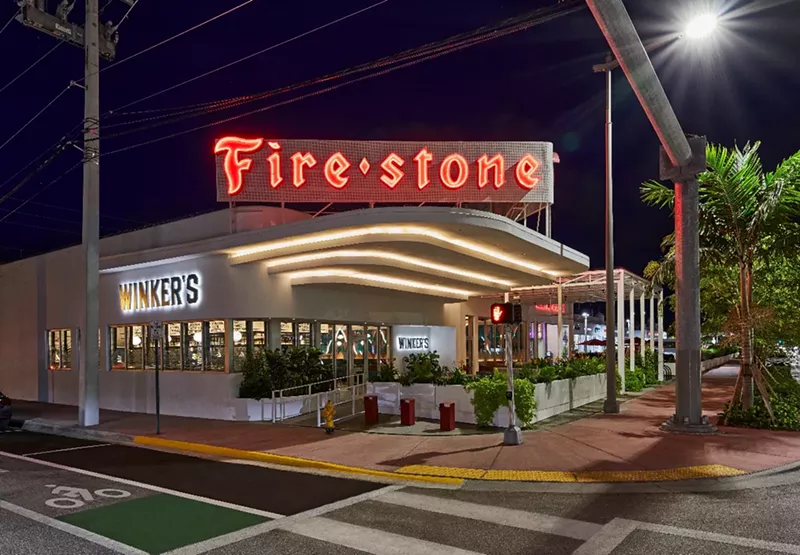 Sushi Fly Chicken
1575 Alton Rd., Miami Beach
305-90-0800
groothospitality.com
Sushi Fly Chicken — SFC for short — is Firestone Garage's restaurant, bar, and lounge. Inspired by Tokyo's underground nightlife scene, the izakaya-style menu offers a range from specialty dishes from sushi rolls and dumplings to robata and fried chicken. Enter the swinging kitchen door to find the "secret," speakeasy-themed bar behind the counter featuring a full liquor bar and bespoke beverages like yuzu margaritas, lychee martinis, and Japanese whisky-based cocktails. Open Sunday through Thursday from 6 to 11 p.m., Friday and Saturday from 6 p.m. to 5 a.m.
Toothfairy
1575 Alton Rd., Miami Beach
305-508-9799
groothospitality.com
This retro-modern bakery offers up Grutman's inventive take on an ice cream parlor and bakery. A display case is a rainbow of colors and flavors, inviting your inner child to sample everything from handmade Twinkies and whoopie pies to a blue "Cookie Monster" cake. Be sure to try in-house pastry chef Dallas Wynne's famous snickerdoodle cookies and cake pop candy bars served up alongside a rotating menu of innovative soft serve ice cream flavors. Open Sunday through Thursday from 9 a.m. to 10 p.m., Friday and Saturday from 9 a.m. to 11 p.m.
Winker's Diner
1575 Alton Rd., Miami Beach
305-831-7274
groothospitality.com
The largest of the three concepts inside Firestone Garage, Winker's Diner offers comfort food in a relaxed atmosphere. Designed as an upscale version of the Woolworth lunch counters of the 1950s, the space is outfitted with teal banquettes and a U-shaped bar where diners can feast on deli-meets-diner fare including pastrami on rye, a French-onion grilled cheese, and a prime rib that looks as though it could feed a family of four. A full bar is also available, and a DJ will spin tunes all night. And what diner would be complete without dessert? Grutman's given nostalgia a whole new meaning with sweet treats like his key lime milkshakes and Italian rainbow cookie cake. Open Sunday through Thursday from 5 to 11 p.m., Friday and Saturday from 5 p.m. to midnight.